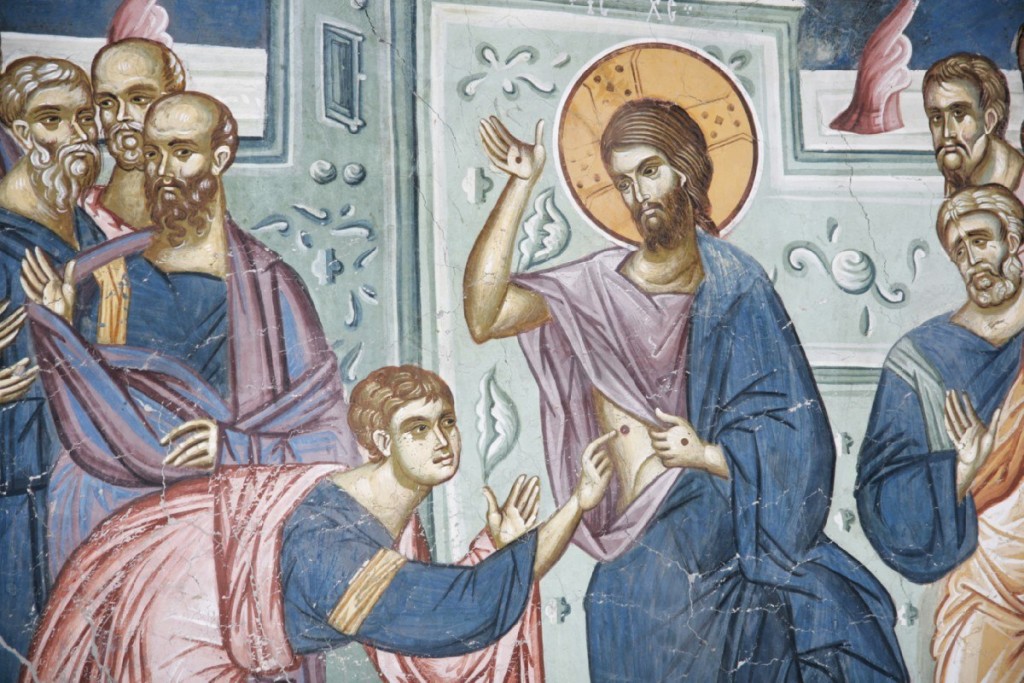 "But Thomas, one of the twelve, called Didymus, was not with them when Jesus came. The other disciples therefore said unto him, We have seen the Lord. But he said unto them, Except I see in His hands the print of the nails, and put my finger into the print of the nails, and thrust my hand into His side, I will not believe (Jn. 20:24-25).
What does this mean, his "I will not believe"? Is it possible he could not believe the other eleven Apostles, his brothers? Is it possible they could lie to him? The whole evangelical life of Christ, all His miracles, Golgotha, the death on the Cross, they had experienced together. And now this joy which they all had experienced they wanted to share with him. No, this was not a lie.
But He, Whom they had seen, was He really the same Christ? Was this not a vision or some other Christ? Was this not a mistake? And Thomas was afraid to lose what he had. And what did he have? This is what: during the years of fellowship with Christ, he had absorbed His teaching, the entire makeup of His life; and by now he was incapable of living any other way. It was painful for him not to have personal fellowship anymore with Christ; but by this time he understood that Christ came to earth in order to teach us the main commandment of God: love for God and neighbor, to perform it Himself, and to give us the strength to fulfill it.
In Paradise the first man fulfilled the commandment of God. The strength to fulfill this commandment of God he drew from eating the fruits of the Tree of Life. But then came the Fall. Paradise was lost, the Tree of Life was lost, and together with it, the strength for a godly life. And Christ came in order to give us the New Testament Tree of Life — His Body and Blood. "This do in remembrance of Me," He said at the Last Supper (Lk. 22:19).
Thomas knew the commandments of Christ, and he knew where to draw the strength to fulfill them. He lived this. Although he lived without the human presence of Christ, he lived in Christ. He was afraid to make a mistake. What if another Christ had appeared to the disciples, not the One in Whom he lived and continued to live? This is what his "I will not believe" meant. And on the eighth day after His Resurrection, the Lord again appeared to His disciples, while Thomas was also in the house, and allowed him to touch His wounds. And here resounded Thomas's triumphant cry, which even now stirs our hearts: "My Lord and my God!" (Jn. 20:28).
And here are the words of Christ which relate to you and me, opening a new era of faith which will remain until the end of the world: "Because thou hast seen Me, thou hast believed. Blessed are they that have not seen, and yet have believed… But these are written," adds the Apostle John the Divine, "that ye might believe that Jesus is the Christ, the Son of God; and that believing ye might have life through His name" (Jn. 20:29, 31).
"Say ye, His disciples…stole Him away." So said the high priests to the soldiers when they notified them of what had happened in the tomb. Starting in verse 12 of the 28th chapter of Matthew, it says: "And when they were assembled with the elders, and had taken counsel, they gave large money unto the soldiers, saying, Say ye, His disciples came by night, and stole Him away while we slept. And if this come to the governor's ears, we will persuade him, and secure you. So they took the money and did as they were taught; and this story has been spread [and is being spread] among the Jews to this day" … to this day … to this day. And over Jewish life fell darkness, malice, deviousness — darkness.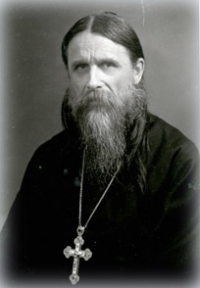 Archbishop Andrew (Rymarenko) of Rockland