Cemetery Overview

The Novo-Diveevo Cemetery is the largest Russian Orthodox cemetery outside of Russia. The cemetery provides a glimpse into Russian history. There are many prominent people buried among the nearly 8000 graves in the cemetery; Princess Vera Constantinova and Prince Georgy Constantinovich, niece and nephew of the last Russian Tsar; Father Seraphim Slobodskoy, author of The Law of God; Alexandra Tolstoy, daughter of author Leo Tolstoy; the wife and family of Baron Wrangel, and many others. We strive to maintain the unique style of a traditional Russian Orthodox cemetery. In keeping with Orthodox traditions, all graves and monuments are required to display a cross as the focal point. Only persons of a Christian faith are permitted to be buried within this cemetery.
---
News and Announcements
June 12, 2020 – COVID – 19 Update: Novo-Diveevo Cemetery is Open with Restrictions
June 29, 2020 – Cemetery FAQ has been created
---
General Information: Orthodox Christian Burials
In the Orthodox Church, all important stages of a person's life are sanctified through prayer. Of course, this also applies to the transition of the human soul from this temporal life to eternity. The service, specially established by the Church for parting of the human soul, is called an otpevanie or a funeral service. In the prayers of this important rite, people ask for forgiveness of the sins of the deceased, for their repose in the kingdom of heaven. The funeral service is also called minor canonization: the worshipers turn to God with the words "With the saints give rest …", which means that we ask for the reposed to be among the saints…
---
Services
Please contact the office or leave message below to make all arrangements for:
Funeral Service (Otpevaniye) at Novo-Diveevo
Burial arrangements and plot purchases
Memorial Service (Panikhida) and Commemorative Prayers
Grave site candle lighting
Arrangements for grave site work care (excluding monuments)
Monument Cleaning and Repair
---
---
Pricing
Cemetery Plot: $5000
Minimum Initial Deposit $2500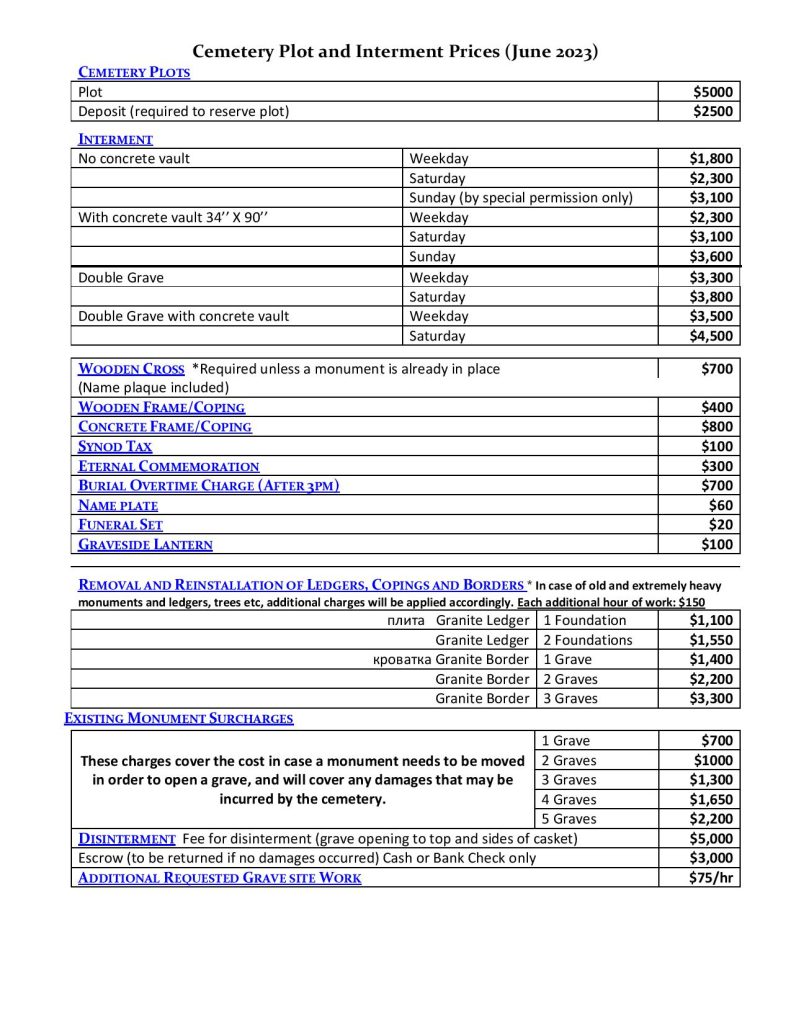 *** Plot purchases by appointment only***
* In case of old and extremely heavy monuments and ledgers, trees etc, additional charges will be applied accordingly. Each additional hour of work: $150
---
Monument Foundation Prices and Regulations for Monument Companies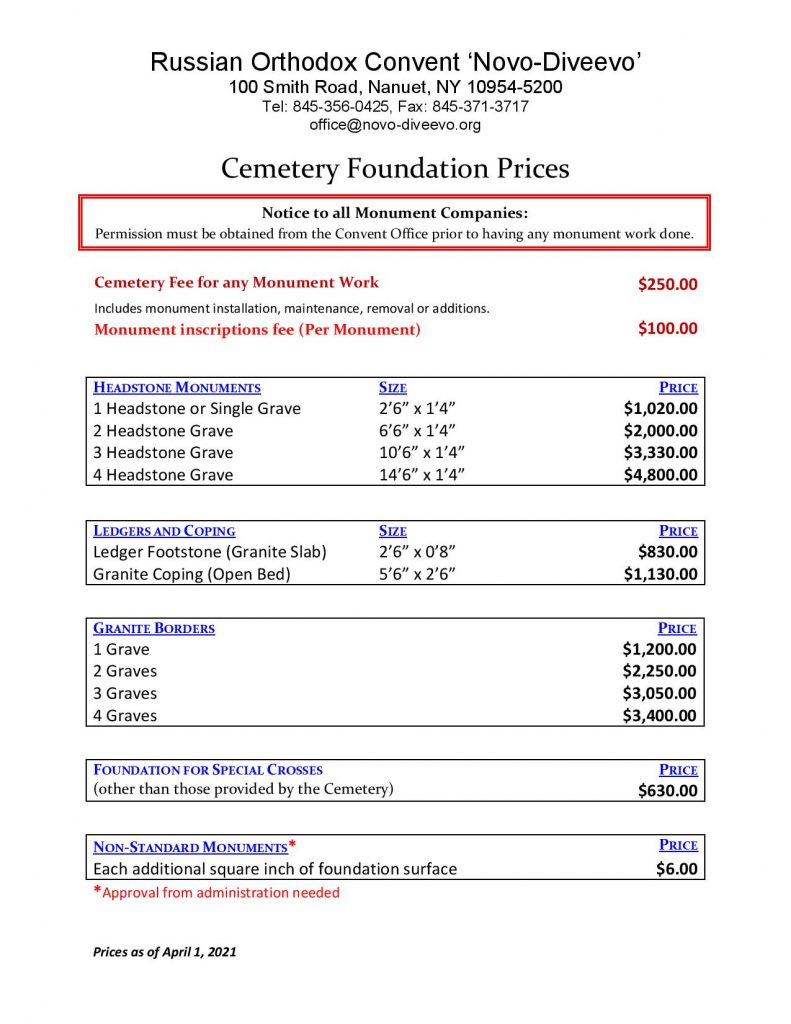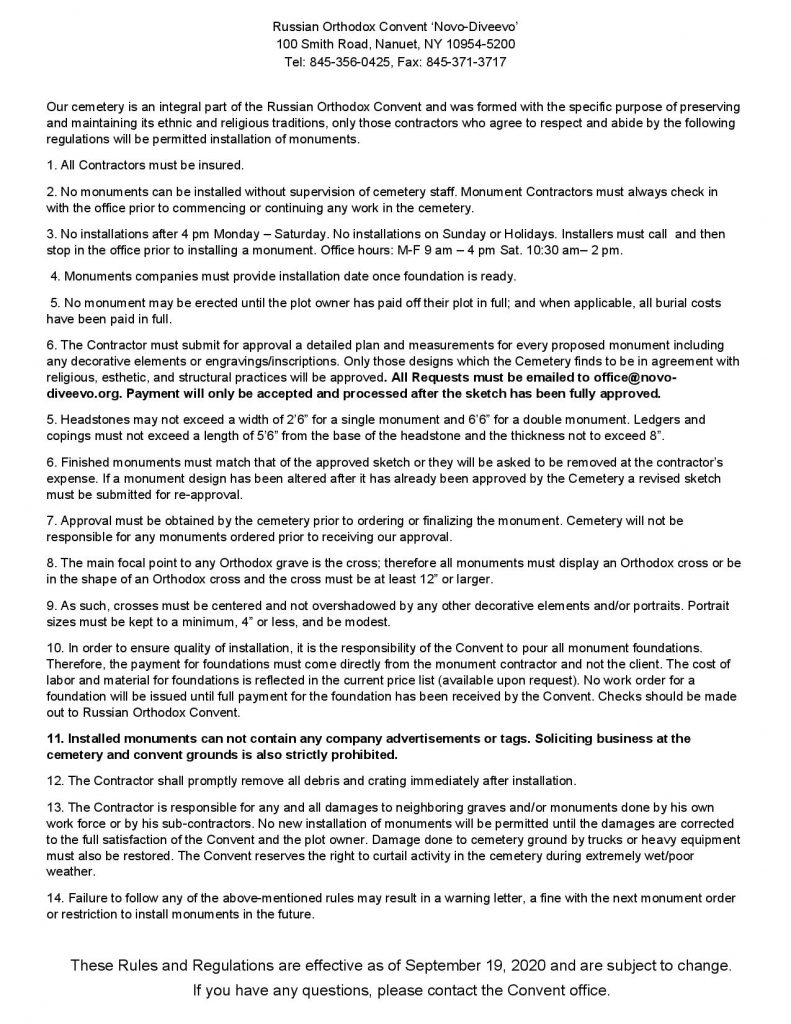 ***As Benches, Trees, and other installations outside of your purchased plot are not permitted, the convent is not responsible for any trees being cut or any items including benches being misplaced. ***
---
Required Documents
---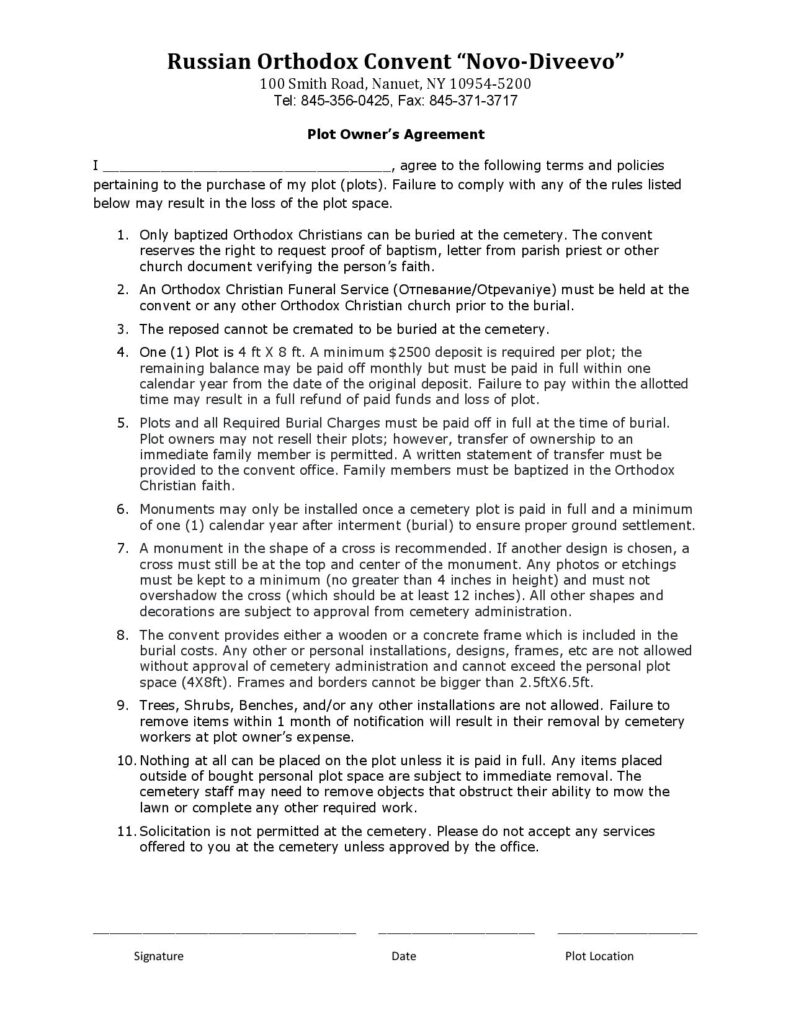 Effective March 1st 2022 with the blessing of cemetery administration. Prices and rules are subject to change; we encourage you to consult with the office if you have any questions.
---
Contact Us
Inquire about plot purchases, grave upkeep, request for memorial services or other questions you may have about the cemetery.