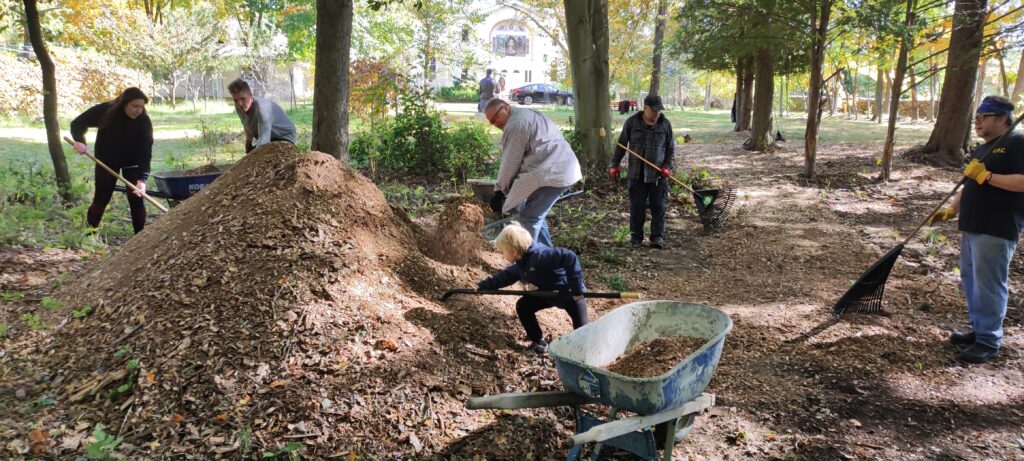 В субботу, 15 октября, провели первый в этом году монастырский субботник. По окончании Божественной литургии отслужили под открытым небом молебен перед началом благого дела, и около 30 волонтеров принялись за расчистку леса между Собором Преподобного Серафима Саровского и монастырским поселком, закладывая основу для будущего благоустроенного парка "Саровский лес".
За несколько часов были срублены засохшие деревья и расчищены упавшие ветки, убран мусор, проложены тропинки для паломников и насельников монастыря. Пока взрослые трудились в лесу, дети покрасили баки для сбора мусора на кладбище. В середине дня все труженники собрались на обед на лужайке в монастырском поселке, а затем вновь принялись за работу. Закончили субботник около 5 часов вечера.
Сердечно благодарим всех за молитвы и помощь монастырю, и приглашаем прогуляться в новосозданном монастырском парке!
---
On Saturday, October 15, we held the first monastic volunteer day this year. At the end of the Divine Liturgy, an open-air Molieben Before Beginning any Good Work, and about 30 volunteers set about clearing the forest between the Cathedral of St. Seraphim of Sarov and the monastery village. All the work done was a first step in the creation of the new "Sarov Forest" park.
In a few hours, fallen branches were cleared and dried trees were cut down, garbage was removed, paths were laid for pilgrims and members of the convent community of the monastery. On the same day, the children also painted the trash cans at the cemetery. After a lunch break in the monastery village, everyone returned to work. All work was completed by 5 p.m.
We sincerely thank everyone for their prayers and help to the monastery and invite you to take a walk in the newly created monastery park!