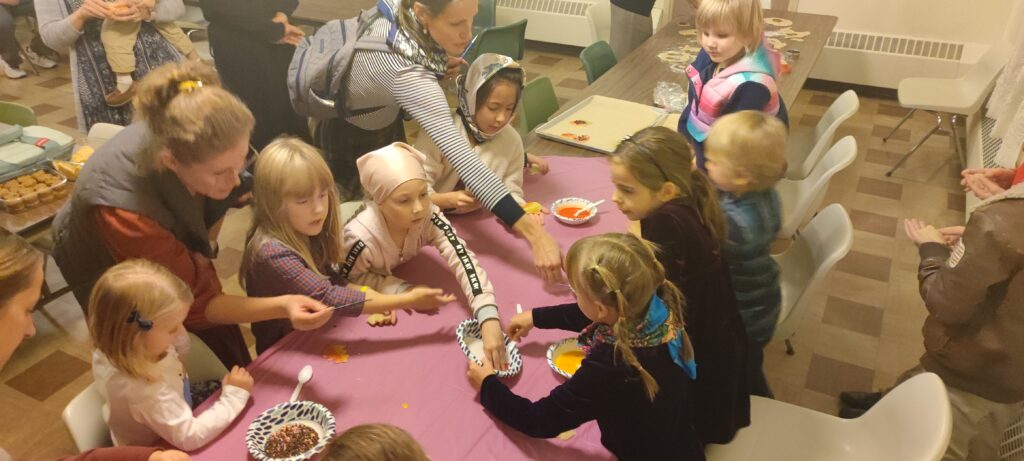 Вчера, 31 октября, в монастыре Ново-Дивеево прошел семейный вечер, посвященный дню памяти святого праведного Иоанна Кронштадтского.
Незадолго до вечерней службы родители с детьми собрались для участия в детской программе – дети послушали истории из жизни отца Иоанна, посмотрели фотографии Иоанновского монастыря, где покоятся святые мощи, а после с интересом взялись за написания письма и просьбы о молитве дорогому Батюшке. В 5 часов началась праздничная полиелейная служба в честь Праведного Иоанна Кронштадтского, на которой смогли побыть и маленькие гости.
После вечерней службы Святому Праведному Иоанну Кронштадтскому взрослые и дети направились в главный зал монастыря, чтобы накрыть праздничный стол и испечь угощение к чаю. Дети были рады угостить игумению монастыря и духовенство сладким печеньем, которое они сами приготовили. После, духовенство и гости монастыря, смогли тепло пообщаться за совместной вечерней трапезой.
———————————————————————————————————
Yesterday, on October 31, a family evening was held in the Novo-Diveevo convent dedicated to the Feast day of St. John of Kronstadt.
Shortly before the evening service, parents and children gathered to participate in the children's program – the children listened to stories from the life of Saint John, looked at photographs of the Ioannovsky Monastery, where His holy relics rest, and then they began to write a letters, draw pictures and prayer requests to St. John. At 5 o'clock the festive polyeleos service began in honor of the Righteous St. John of Kronstadt, where the children and their parents also attended.
After the evening service, adults and children went to the main hall of the monastery to set the festive table and bake cookies. The children were happy to treat the abbess of the monastery and the clergy with sweet cookies, which they themselves had prepared. Afterwards, the clergy and guests of the monastery were able to enjoy an evening meal together in the main convent hall.