Cemetery Overview
The Novo-Diveevo Cemetery is the largest Russian Orthodox cemetery outside of Russia. The cemetery provides a glimpse into Russian history. There are many prominent people buried among the nearly 8000 graves in the cemetery; Princess Vera Constantinova and Prince Georgy Constantinovich, niece and nephew of the last Russian Tsar; Father Seraphim Slobodskoy, author of The Law of God; Alexandra Tolstoy, daughter of author Leo Tolstoy; the wife and family of Baron Wrangel, and many others. We strive to maintain the unique style of a traditional Russian Orthodox cemetery. In keeping with Orthodox traditions, all graves and monuments are required to display a cross as the focal point. Only persons of a Christian faith are permitted to be buried within this cemetery.

Services
Please contact the office to make all arrangements for:
Funeral Service (Otpevaniye) at Novo-Diveevo
Burial arrangements and plot purchases
Memorial Service (Panikhida) and Commemorative Prayers
Gravesite candle lighting
Arrangements for gravesite work (excluding monuments)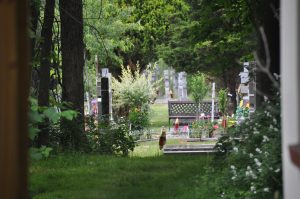 Plot Purchase
Plot sizes are 4ft x 8ft. At minimum, a $500 deposit is required per plot; the remaining balance may be paid off monthly. Individuals are encouraged to visit the cemetery to select a plot(s). Plots must be paid off in full at the time of burial. Plot owners may not resell their plots; however, transfer of ownership to an immediate family member is permitted. A written statement of transfer must be provided to the convent office. Plots may be returned for a refund, less a $50 processing fee. A written statement of cancellation is required before a refund may be issued.
Pricing
Cemetery Plot: $2500
Deposit: $500
| Type | Weekday | Saturday |
| --- | --- | --- |
| Grave Opening | $1200 | $1800 |
| Grave Opening with vault* | $1800 | $2400 |
* Vaults are not required, but additional burial expenses will apply. Contact the office for additional price quotes on services.
| Type | Price |
| --- | --- |
| Wooden Cross & Name Plate | $250 |
| Synod Tax | $50 |
| Existing Monument Surcharge | $200 – $2000 depending on monument size |
| Removal & Reinstallation of borders and ledgers | $900 – $3000 depending on type |
| Gravesite Lantern | $85 |
| Gravesite Candle (for lantern) | $3.50 |
Monuments
Monuments may be installed once a cemetery plot is paid in full or one calendar year after interment to ensure proper ground settlement. Please be advised that if a monument is installed prior to interment additional costs will be incurred at the time of burial (see pricing). Novo Diveevo does not install monuments; plot owners must choose a monument contractor. Any and all arrangements with regards to monuments must be conducted through a monument contractor only and not with the cemetery. A monument in the shape of a cross is preferred. If another design is chosen, a cross must still be the focal point of the monument. Any photos or etchings must be kept to a minimum (no greater than 8 inches in height) and must not overshadow the cross (which should be at least 12 inches).
Gravesite Care
Currently the convent does not provide perpetual care for gravesites; however, the common grounds are maintained by the cemetery staff. In some cases the cemetery staff may need to remove objects that obstruct their ability to mow the lawn. We apologize for this inconvenience. It is the individual's responsibility to care for their own plantings. Although trees and shrubs beautify a gravesite, they can also damage nearby monuments. There is a significant deer population in the area and they tend to eat a lot of plants and flowers. Please consult the office prior to planting any large shrubs or trees. In addition, please consult the office prior to bringing in benches or any large objects intended for use at a gravesite.
Effective December 2016. Prices and rules are subject to change; we encourage you to consult with the office if you have any questions.